By Invitation Only: This exciting group of 146 golfers with 34 Celebrities from film, television, music and professional sports at Trump National Golf Course on July 17, 2017 in support of the campaign for Caren Lancona for US Senate from California. We will go down in history for making California Red again.
This fun filled action packed event starts with a buffet breakfast at check-in, golf cart, balls, tees and towel to launch the first drive on the ocean front course in Rancho Palos Verdes.
Celebrity Golf Tournament for Open Hearts for Purple Hearts presented by Caren Lancona for US Senate from California
Trump National Golf Club $750
9:00 am
GOLFER'S REGISTRATION

(Curbside next to Bag Dropoff)
OFFICIAL GOLFERS BREAKFAST
(Club 19)
The Golf Clinic (Practice Range)
Golf Swing Analysis (Hitting Bays)
Putting Contest (ticket required)
Photos with Celebrities
Sports Conditioning & Stretching
U.S. Marines Color Guards / National Anthem
Celebrity Introductions
Rules and Scoring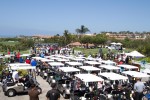 Restaurant and Beverage Stations throughout
Contests at Holes #4, 5, 7, 9, 10, 13, 15, 17
Personal Services & Tee Gifts
Hole Sponsor Gifts throughout
4:30-5:30pm
TURN IN SCORECARD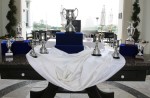 4:30-5:30pm VIP RECEPTION
5:30 to 7:00pm AWARDS DINNER
Contest Winners
(men's & women's winners)
Putting Contest for a Car
Longest Drive
Closest to the Pin
Most Accurate Drive
$1 Million Hole in One
1st, 2nd, 3rd and 4th places
1st, 2nd and 3rd places (low net & low gross)
Official Tournament Keepsake – 2017
Traduzione
Solo per invito: Questo gruppo emozionante di 146 giocatori con 34 celebrità di film, televisione, musica e sport professionistici al Trump National Golf Course il 17 luglio 2017 a sostegno della campagna per Caren Lancona per il Senato degli Stati Uniti dalla California. Andremo nella storia per rendere California Red ancora.
Questo evento ricco di attività ricreative inizia con una prima colazione a buffet al momento del check-in, il carrello da golf, le palle, i t-shirt e l'asciugamano per lanciare la prima unità sul fronte Ocean Front di Rancho Palos Verdes.
9:00 am REGISTRAZIONE DI GOLFER (Curbside accanto a Bag Dropoff)
COLAZIONE UFFICIALE DI GOLF (Club 19)
La clinica di golf (campo pratica)
Analisi dell'oscillazione di golf (colpi di battaglia)
Concorso (biglietto richiesto)
Condizionamento e allungamento sportivo
Stati Uniti Marines Color Guards / Inno nazionale
Introduzioni di celebrità
Stazioni di ristoro e bevande in tutto
Concorsi ai buchi # 4, 5, 7, 9, 10, 13, 15, 17
Servizi personali e regali per te
Hole Sponsor regali in tutto
4: 30-5: 30 GIORNI IN SCORCO
4: 30-5: 30 RECEPTION VIP
Vincitori del Concorso (Uomini e Donne)
Mettere un concorso per un'auto
1 °, 2 °, 3 ° e 4 ° posto
Vincitori di Place Foursome
1 °, 2 ° e 3 ° posto (bassa e bassa)
Torneo ufficiale di Keepsake - 2017